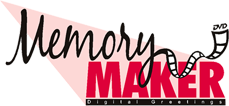 Step Inside our
Photo Video Booth
Kiosk
Experience the
Hottest
New Wedding Trend

VIDEO & PHOTO BOOTH SOFTWARE


Flexible Options

The Memory Maker user interface is not only simple to use but is designed with the utmost flexiblity for your guests. Besides the photo strip option, the software has a video only and a file sharing option. Guests can record and take pictures with or without printing. The software captures an instant video (in MWAV format) from 30 sec up to 3 min (programmable) and burns it to a card CDR. this party favor can be played back in most PC's and laptops. There is also a special module for the host of the party to leave a special greeting for their guests.

Theme Selection

The Theme will go on the bottom half of the CD label. These can be seasonal themes like Valentines Day, Mothers Day, Easter, Halloween, and Christmas. Most events like weddings, anniversaries, reunions, graduation parties, and birthdays will have a custom theme that is preselected.

Border Selection

Similar to the theme message, border selection allows the CD cover to become more personalized and colorful. Different combinations of theme and border selection brings more fun and suitable for various events, such as birthday parties, valentines, celebration, etc . . .

Customized CD Label

Combining the selection of theme and border, Memory Maker integrates the selected photo captured during the posing and prints out a customized CD cover. Once the video CD is burned the photo sticker is peeled off and applied manually to the CDR, this results in a unique personalized video CD. The extra photo stickers can be placed in a photo album for the host to see after the event.

Record Video

The guest Video message is automatically compressed and burned on the card CDR and the event folder of the machine. When played in the CD-ROM of PC computer, the intro or thankyou message will play, then the guest greeting will follow, and end by opening up to the host's website if an internet connection is available.

Powerful Admin Panel

The user interface is highly customizable. An attendant isn't needed but highly recommended to help the guests navigate through the novel elements of our software. The admin panel allows the operator to customize the event or business.




---

Great Fun in Making VCD

- Our Most Popular Option

Step 1
Select the option of a photo strip, Video, Party Favor, or File Sharing.
Step 4
Get ready and Smile!
3 shots will be taken
for the photo stickers and CD Cover.




Step 2
Select your desired
border from the collection.
Step 5
Choose the best one out of the 3 for printing.





Step 3
Choose your favorite theme from the collection.
Step 6
Get ready and action.Video starts shooting, and you can record up to 3 minutes.